by
Andrea L. Algar
A 40 foot wide, 20 foot deep sinkhole suddently opened up and swallowed eight extremely valuable Corvettes in the Sky Dome at the Bowling Green, Kentucky National Corvette Museum at 5:30 am Wednesday, causing shock and potentially millions in damages. The Sky Dome is home to more than 70 valuable Corvettes.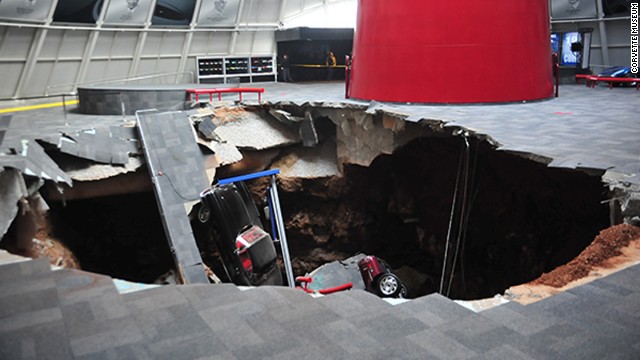 Giant Sinkhole at the
National Corvette Museum
The story broke from a variety of news sources who reported that the Corvette museum's motion detectors alerted security that something was wrong in the facility. What employees found was nothing short of shocking, as they discovered the enormous cavern created by the sinkhole, with what initially appeared to be one or two Corvettes in the rubble. But, what was later revealed added more distress as a remote controlled drone armed with robotic camera showed that at least eight valuable collectable Corvettes were amid the ruins. One additional Corvette is pearched perilously on a riser above the sinkhole.
The enormous sinkhole came at a bad time for the National Corvette Museum, as it is poised for over 5,000 pre-registered people to attend its 20th anniversary in August. The milestone event will also mark the opening of a 184 acre Motorsport Park with grand opening events. No doubt celebrations will go on as scheduled, but plans for the park opening will likely be subject to site testings to determine if this acreage might contain potential for sinkholes as well.
Museum spokeswoman, Katie Frassinelli, reported, "When you go in there, its unreal. The hole is so big, it makes the Corvettes look like little Matchbox cars." Geologists and engineers who have examined the site have determined that the structure is sound, but that there is "a cave" underneath the Sky Dome. Its interesting to note that the Mammoth Cave National Park is only a short distance from the National Corvette Museum. I'm sure that geologists will look to see if there is any connection, or if more underground caverns may exist on the site.
As is typical with museum displays, many of the vehicles are not owned by the museum. Some are donated by collectors and enthusiasts, others are lent to the museum for display. Two of the Corvettes lost in the collapse are reported to be owned by General Motors, with the remaining six donated from individuals.
Thankfully, there were no classic Corvettes lost, but among the losses are irreplaceable cars. The missing include:
1962 Corvette

1984 PPG Pace Car

1992 1 Millionth Corvette

1993 ZR-1 Spyder

1993 40th Anniversary Corvette

2001 Mallett Hammer Z06 Corvette

2009 1.5 Millionth Corvette

2009 ZR1 "Blue Devil"
Watch the amazing video caught by on-site surveillance:
Have you ever owned a Corvette? Share your story and make a comment in tribute.